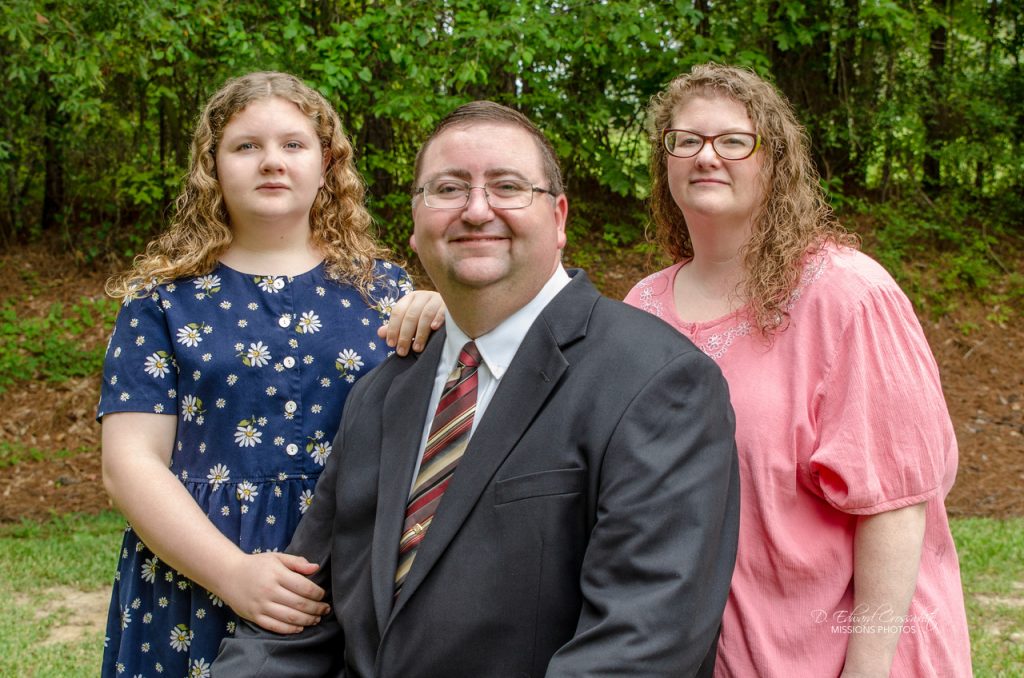 ---
Dear Pastor,
In this document, you will find our missionary packet. It contains a brief history and a short video.
Thank you for taking the time to get to know us.  My name is Scott. I met my future wife Tina Jenkins at Arlington Baptist Church in Bryson City, North Carolina and I really got to know her in our Sunday School and Vacation Bible School.  Tina and I attended the same High School and we both graduated in 1994.  After graduation, we began our college career at public universities before meeting again at Tennessee Temple University in Chattanooga, Tennessee. We returned to our home church of Arlington Baptist where we were married in May of 1997. My mom and dad went to the Mexican mission field in 2001 and began helping pastor Robert (Bob) Hawke in Durango Mexico.  My daughter, Samantha was born in January of 2006. By this time my parents were based in South Texas and helping the pastors and missionaries that travel through south Texas to renew paperwork and gather supplies.
Around the time that Samantha was born, I began feeling God calling me to help my parents with the work in Mexico.  During that time my mom had injured her arm helping my dad install drywall on a ceiling and I began to pray for a man to come and help my dad. At the time I was working as the 2nd shift Pre-press Manager at Olan Mills church directory division.  I was looking for work in the South Texas area when Edward Woodfield shared a possibility with me.  The job was a teaching position at Faith Christian Academy where I would teach computer applications and typing and I would fill out my schedule teaching 5th-grade courses.  We moved down from Rossville, Georgia in the fall of 2006. To supplement my income I worked at the church-owned Christian Radio Station programming the daily playlist and working as a part-time engineer.
As time allowed I would help my dad on trips into Mexico. In 2007 my parents purchased the Mission property at 2600 Sunset Boulevard, Mission, Texas 78574. It was equipped with a single-wide trailer and two small storage buildings. My parents met many pastors and missionaries who were added to the bread run trips.  These trips were multiple-stop trips where we would go to Mexico and bring boxes of bread and stateside requested items to missionaries and pastors. In the months surrounding Christmas, we bring shoebox gifts to Mexico and make gospel presentations several times each trip.
God has allowed my family of three to help part-time since 2006. We began helping my parents on a full-time basis in February 2016. I continued to work a part-time job until June of 2017 when we began our deputation. My dad's recent failing health has motivated us to seek additional financial and prayer support.
The mission now has 6400 square feet of covered space that has supplied over 200 missionaries and pastors. I know of over 2000 souls that were saved in just 2018. We serve an amazing God. If there is anything else you would like to know please ask.
In His Service,
Scott De Hart
956-580-0333
---
Our Ministry Video
---
Below I have included copies of my parents' prayer card and my own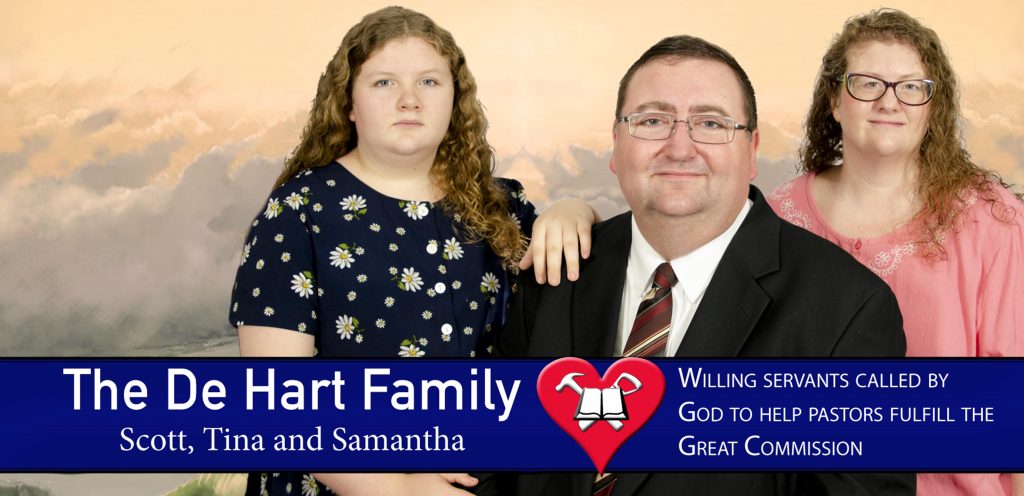 ---
The Brochure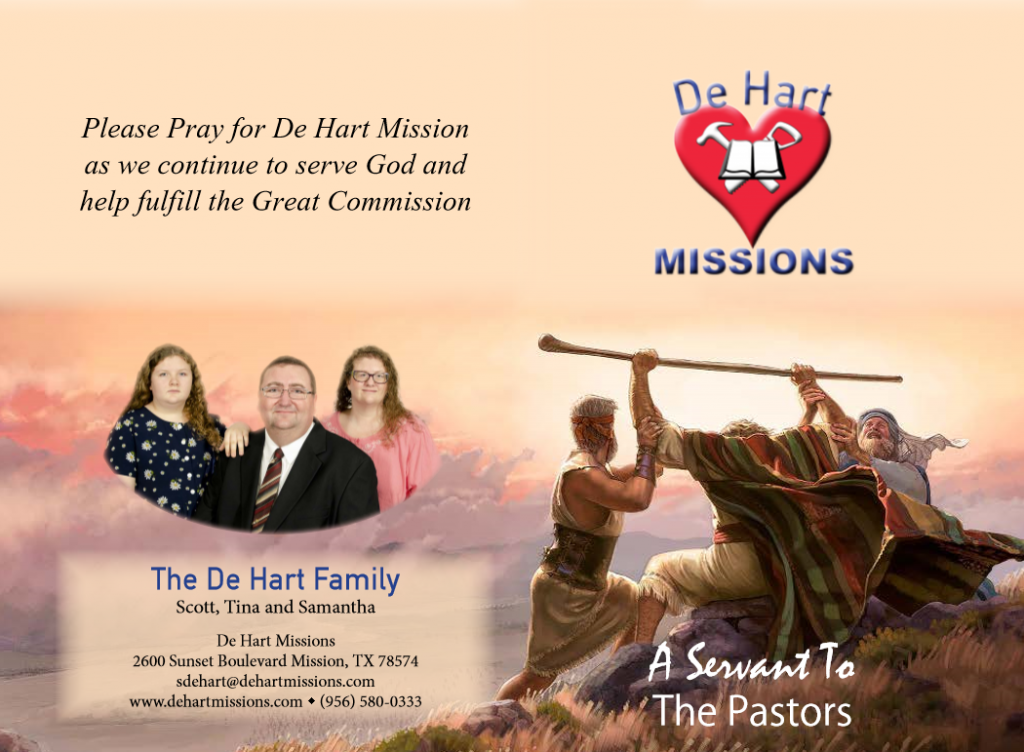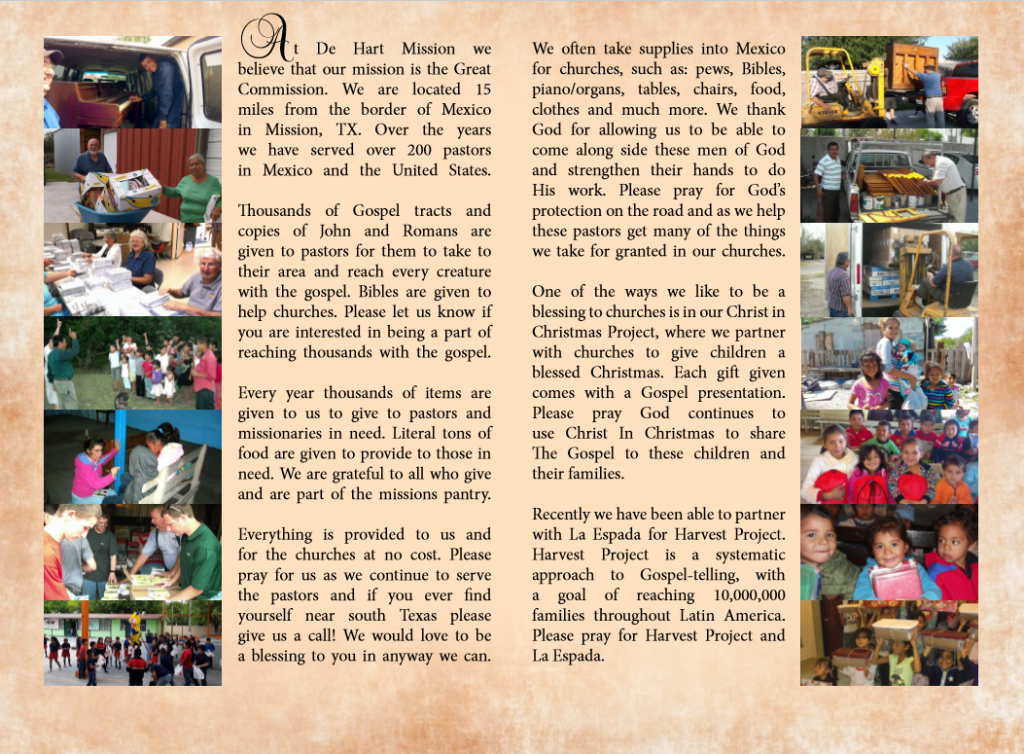 ---
Additional Links
Clicking the links below will bring you to
our website www.dehartmissions.com

---
Mission Warehouse
2600 Sunset Boulevard Mission, TX 78574
Electronic Mail
sdehart@DeHartMissions.com
Cellular Phone
(956) 580-0333
Website
www.DeHartMissions.com
Sending Church / Support Address
Maranatha Baptist Church  1800 North Ware Road McAllen, TX 78501