At De Hart Mission we believe that "Our Mission is the Great Commission."  Because of this belief, everything that we are involved in is used to help support the Great Commission.  Everything boils down to God's great love (John 3:16) and God's Command to share the Gospel of Jesus Christ.
We are happy to assist Pastors and Missionaries
Serving in Mexico in any way we possibly can!!!
Because of this flexibility, no list can be completely exhaustive
If you have a need please Contact Us
Who We Are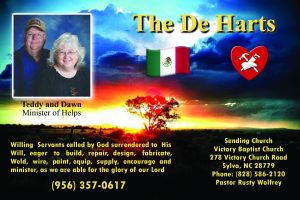 My parents Ted and Dawn De Hart have been ministering full time since 2001. 

My family and I joined the ministry, full time in 2017, and are currently on deputation. 
Where We Are
We are located 15 miles from the border of Mexico in Mission, TX.

What We Do
Thousands of Gospel tracts and copies of John and Romans are given to pastors for them to take to their area and reach every creature with the gospel. Over the years we have served hundreds of missionaries and pastors in Mexico and the United States. Bibles are given to help churches disciple new believers. Please let us know if you are interested in being a part of reaching thousands with the gospel.
Every year thousands of items are given to us to give to pastors and missionaries in need. Literal tons of food are given to provide to those in need. We are grateful to all who give and are part of the mission's pantry.
Everything is provided to us and for the churches at no cost. Please pray for us as we continue to serve the pastors and if you ever find yourself near south Texas please give us a call! We would love to be a blessing to you in any way we can.
We often take supplies into Mexico for churches, such as: pews, Bibles, piano/organs, tables, chairs, food, clothes and much more. We thank God for allowing us to be able to come alongside these men of God and strengthen their hands to do His work. Please pray for God's protection on the road and as we help these pastors get many of the things we take for granted in our churches.
One of the ways we like to be a blessing to churches is in our Christ in Christmas Project, where we partner with churches to give children a blessed Christmas. Each gift given comes with a Gospel presentation. Please pray God continues to use Christ In Christmas to share The Gospel with these children and their families.
Recently we have been able to partner with La Espada for Harvest Project. Harvest Project is a systematic approach to Gospel-telling, with a goal of reaching 10,000,000 families throughout Latin America. Please pray for Harvest Project and
La Espada.
Ministry Services Include
The Distribution Warehouse (AKA) "The Pantry" is a 40 x 40-foot warehouse

Approximately 2 tons of materials pass through the pantry doors each month

Visitors will find Spanish Gospel tracts for sharing the Gospel and Spanish Bibles to disciple new converts  

The pantry is filled with many useful donated new and gently-used items 

Non-perishable foods such as rice, beans, and canned goods

All items are provided at no cost


Pickup/Delivery Service:*

We also make some deliveries into Mexico each month

We are happy to visit you to pick up donations


Chauffeur Service:*

Pick up and drop off at local Airports 

Shuttle to US and International bus stations

Vehicle Service:

Preventative maintenance

Basic Troubleshooting

Local Emergency roadside assistance

Import/Nationalization Guidance

*Pickup, Delivery, and Chauffeur Service is done on a case by case basis. Please contact

us to schedule.

We are Willing Servants called by God,
surrendered to His Will,
eager to equip, supply, encourage and minister,
as we are able for the glory of our Lord.

Ask us how we can help you minister to the lost in Mexico. All materials are provided at zero cost.  We pray that God will send more laborers to Mexico.
We serve an amazing God and we are excited about the ministry that God has called us to do.  We do pray that you will consider helping us to reach Mexico by supporting our ministry.  If you have any questions or comments, please feel free to contact us.  You may also wish to subscribe to our monthly prayer letter.
Thank you once again for taking interest in our ministry.
May God bless you greatly!
The De Hart Family